NOW

PAYOUT *TOTAL PRIZE POOL GUARANTEE*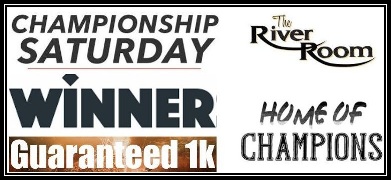 Updated As Of Tournament#17 / February 9th
JANUARY WINNER: LYNN $600
| | | | |
| --- | --- | --- | --- |
| As Of | February Championship Seats | T#-17 | Date Player |
| 02-09 | Qualifying Players | Seat Cost | Qualified |
| 1 | Casey | $20 | Jan: c/o |
| 2 | Dan S. | $20 | Jan: c/o |
| 3 | Mike H. | $20 | Jan: c/o |
| 4 | Nathan | $20 | Jan: c/o |
| 5 | Sonny | $20 | Jan: c/o |
| 6 | TJ | $20 | Jan: c/o |
| 7 | Bob | $20 | 01-29 |
| 8 | Dan S. | $20 | 02-03 |
| 9 | David B. | $20 | 02-05 |
| 10 | Doug Sr. | $20 | 02-04 |
| 11 | DP | $20 | 02-03 |
| 12 | Guido | $20 | 01-29 |
| 13 | Harold | $20 | 02-04 |
| 14 | Jim | $20 | 02-05 |
| 15 | John R. | $20 | 01-29 |
| 16 | Pete | $20 | 02-03 |
| 17 | Terry | $20 | 02-05 |
| 18 | Angie | $60 | 02-03 |
| 19 | Annette | $60 | 02-05 |
| 20 | Ben | $60 | 02-05 |
| 21 | Carlo | $60 | 02-04 |
| 22 | Chris J. | $60 | 02-03 |
| 23 | Chuck | $60 | 02-04 |
| 24 | David G. | $60 | 02-04 |
| 25 | Derrick R. | $60 | 02-04 |
| 26 | Durby | $60 | 02-05 |
| 27 | Gary S. | $60 | 02-03 |
| 28 | George R. | $60 | 02-05 |
| 29 | Greg C. | $60 | 02-04 |
| 30 | Jake W. | $60 | 02-03 |
| 31 | Jeff J. | $60 | 02-03 |
| 32 | Kelly S. | $60 | 02-03 |
| 33 | Kris J. | $60 | 02-03 |
| 34 | Lorie B. | $60 | 02-05 |
| 35 | Lynn | $60 | 02-04 |
| 36 | Mariah G. | $60 | 02-04 |
| 37 | Raymond | $60 | 02-03 |
| 38 | Renee | $60 | 02-05 |
| 39 | Rod | $60 | 02-03 |
| 40 | Sarah | $60 | 02-05 |
| 41 | Silas | $60 | 02-05 |
| 42 | Sonny | $60 | 02-03 |
| 43 | Ted | $60 | 02-03 |
| 44 | TJ | $60 | 02-03 |


* How Do I To Qualify To Play On Championship Saturday Each Month?
Play In Any Club Tournament During That Month Qualifies You To Buy-In For $60

($60 Seats Don't Carry Over If Not Used)

Finish In 1st, 2nd or 3rd In Any Club Tournament Qualifies You To Buy-In For Only $20

($20 Seats Carry Over 1 Month Only If Not Used The Month Won)

One Re-Buy Chip Per Entry, All Re-Buy's Are $105 ($30,000 Chips Available For The First Two Hours Only)

Unused Re-Buy Chips Can Be Used For a $5 Add-On ($10,000 Chips)

10 Player Final Table
Championship Saturday Is The Last Saturday Of The Month (Avoiding Holidays Or Exceptions In Scheduling For That Month)

Championship Saturday's Top 3 Finishers Awarded 3 POM Bonus Points Each Month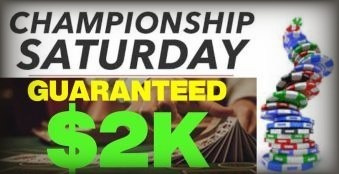 THE 2023 MONTHLY FINALS RULES:
$20 Buy-In ($25,000)
$10 Usage Fee
$5 Add-On ($5,000)
$10 Break Chip Up ($10,000)
$5 Add-On For Unused Re-Buy Chips At 2 Hour Break ($10,000)
One Rebuy Chip / Rebuy Cost $105 For $30,000 Chips
Final Table Of 10 Players
$50,000 Maximum Playing Chips With Everything
$60 Buy-In To Non-Qualified Players With a Minimum 1 Event Played In That Current Month.
Qualified $20 Seat Players, Any Player Who Finished 1st, 2nd or 3rd in Any Tournament in that Current Month.
Last Saturday Of The Month Unless Otherwise Scheduled
Players who qualify & can't play that
Months Finals will automatically have
the Entry carried over to the following
months Finals, if not used then it's
no longer valid and that player
would need to qualify again.
*Top 3 Spots Earn 3 Player Of The Month Bonus Points
* 2K Guaranteed Payout Each Month ($1K To Winner)